Google Adsense has launched a new feature called Scorecard, that allows Adsense Publishers to have a quick overview of their revenue optimization and their site performance.
The Scorecard is structured on three main categories: Revenue Optimization, Site Health and Google+. Google assigns a rating to each category (from one to five) and gives suggestions on how to improve earnings and traffic.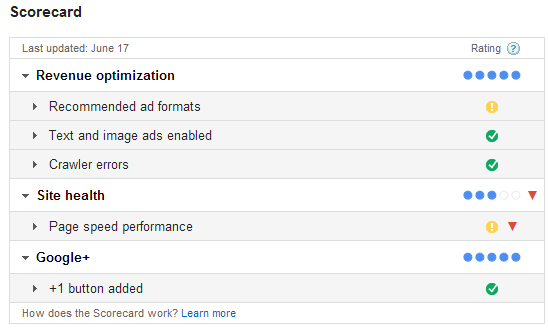 Revenue Optimization is focused on Recommended Ad Formats, Text and Image ads enabled and Crawler Errors. Each indicator has a green, yellow or red mark, suggesting actions to take in order to improve it.
Site Health is based on Page Speed Performance which is a tool that recommends a set of corrective actions to improve the page load speed and to have a better user experience.
The last category suggests adding a Google+ button to allow users to quickly share your content on Google Plus social network.