Always, after installing an operating system on a notebook or desktop PC, you have to check if all hardware components and corresponding drivers are properly installed.
In Windows, you can check if all drivers are properly installed by right clicking on My Computer, click on Properties, than click on Device Manager. Missing drivers are always displayed in Other Devices section (labeled with a yellow question mark).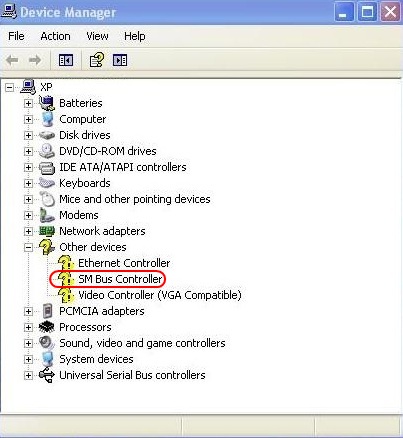 For Toshiba Satellite, a yellow question mark on SM BUS CONTROLLER indicates that the chipset driver must be installed and a yellow question mark on UNKNOWN DEVICE ACPI/TOS620A indicates that the BLUETOOTH STACK driver must be installed.
How to install missing SM BUS CONTROLLER driver:
1. Go to Toshiba official website
2. Select your product type, family and model (example Toshiba Satellite C855-1EL PSKCAE)
3. For Driver Type select Chip Set Utility
4. Select the proper operating sistem and click on Search
5. Download and install the latest version available for your driver
How to install missing UNKNOWN DEVICE ACPI/TOS620A driver:
1. Go to Toshiba official website
2. Select your product type, family and model (example Toshiba Satellite C855-1EL PSKCAE)
3. For Driver Type select Bluetooth Stack
4. Select the proper operating sistem and click on Search
5. Download and install the latest version available for your driver