Electronic mail, referred to as email or e-mail is out there since approximately 1993. The mail system is a method of exchanging messages between users. Modern email operates across computers network and the Internet.
Some early email systems were more likely nowadays instant messaging systems, requiring both users to be online at the time the email was sent.
Today's mail systems are based on a store-and-forward model. Email servers accept, forward, deliver, and store messages. Neither the users nor their computers are required to be online at the time a message is delivered, they need to connect to an email server, in order to send or receive messages.
MSG2EML converts all messages from *.msg format (Microsoft Outlook specific) to *.eml format (Outlook Express specific) in the specified folder (works recursively for all subdirectories under the root directory).
The EML format is used by many email clients and mail systems including Microsoft Windows Live Mail, Microsoft Outlook Express and Mozilla Thunderbird.
With MSG to EML Converter, users can now easily move their Microsoft Outlook email messages, to well-known email clients, by exporting MSG format to Windows Live Mail EML format, MSG format to Windows Mail EML format, MSG format to Outlook Express EML format, MSG format to Apple Mail EML format or MSG format to Mozilla Thunderbird EML format.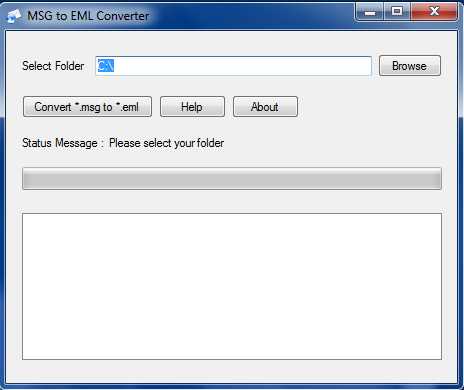 Conversion is done by generating new *.eml files, respecting the original *.msg messages path.
INSTALLATION:
1. Download msg2eml-setup.exe: MSG to EML Download
2. Install the software, the installation process is quite straight-forward
3. Launch MSG2EML Converter
4. Select the root directory and press OK
5. Wait until the conversion process completes
You can now easily export msg files to eml files!