Why not taking advantage of the latest features provided by Google Analytics? Features like remarketing reports, demographics reports and interests reports which can give you key analytics insights to determine if some groups convert better than others or if you are attracting the right audience for your site.
Advanced Google Analytics is a powerful Joomla plugin that will generate and insert the proper Google Analytics tracking code in all your web pages. With this plugin you can also track downloads, track outbound and mailto links, track multiple domains and subdomains, or anonymize IP addresses.
In addition, if you enable the Custom Dimensions feature you can segment your analytics data in ways you've never imagined, being able to determine the most popular categories, the most popular publication years, how your authors are performing and your users' engagement.
If you don't have a Google Analytics account you should create one.
Advanced Google Analytics Settings
To access plugin's configuration page, go into your Joomla Backend, click on System -> Manage -> Plugins, click on System – Advanced Google Analytics.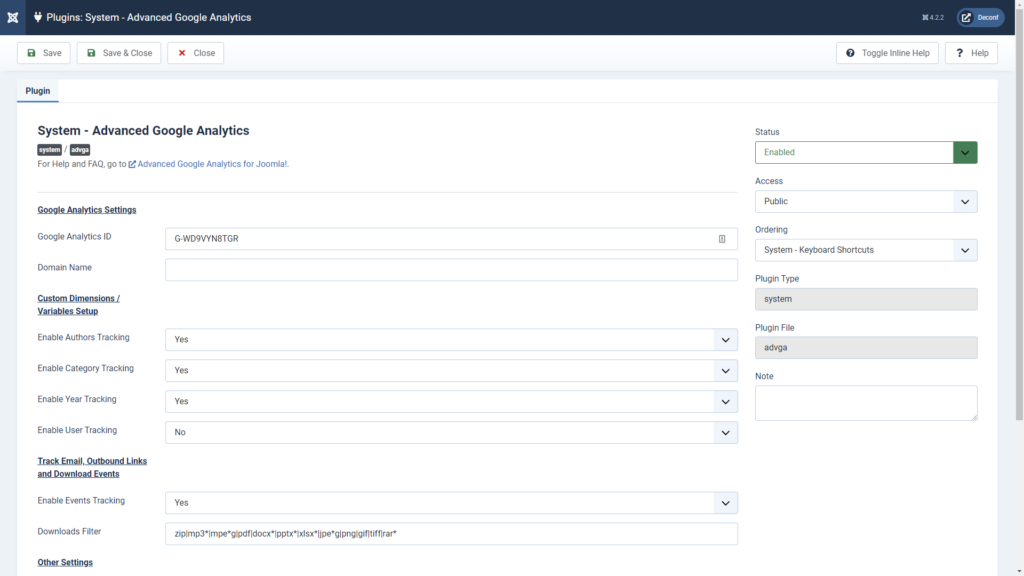 You should start the setup by getting your Property ID or Measurement ID (if you're using the new Google Analytics 4) which is required for the plugin to work properly. Copy the Property ID or Measurement ID which should look something like this UA-YYYYYYYY-Y or G-YYYYYYY, paste it in the plugin's field called Google Analytics ID and apply the settings using the Save button.
The parameter called Domain Name should be filled in with your domain name or subdomain name (the www is required if your website uses www).
Based on Google Analytics ID the plugin will automatically select the proper tracking code for Universal Analytics or Google Analytics 4.
Custom Dimensions
Using Advanced Google Analytics for Joomla and Custom Dimensions you can track the four predefined segments: category, authors, year and user, as specified above.
To use custom dimensions with Advanced Google Analytics you need to properly define them, read this tutorial for more details about Setting up Custom Dimensions for Advanced Google Analytics (valid for Universal Analytics UA).
Event Tracking (Universal Analytics)
Event tracking is just awesome, is a Google Analytics feature which allows you to track events like clicks on external links or clicks on downloads. To enable this feature you will need to set Enable Events Tracking to Yes. Events like clicks on outbound links or clicks on mailto are tracked out of the box. A Downloads Filter is available for tracking downloads; you can use the default filter or you can customize it as you wish. Just remember to use this "|" separator when adding a new file extension to the list.
To display the events in real-time go to Real-Time -> Events, on your Google Analytics account. You can also access all your Events reports by going to Content -> Events -> Overview.
Event Tracking (Google Analytics 4)
For Google Analytics 4 the majority of events tracking is done out-of-the box by properly configuring the Web Data Stream associated with your Measuring ID.
Additional tracking Settings
Using Anonymize IP option you will be able to comply to some legislation requirements from different countries.
Setting Admin Tracking to No will help generating clean reports. Visits, page hits or any other actions generated by you or other administrators will be automatically excluded from your reports.
If you want to generate remarketing, demographics and interests reports you'll have to enable the Demographics / Interests option. To use the Remarketing feature, you'll have to complete this checklist. For demographics and interests reports make sure you update your privacy policy and complete this checklist.
To find more details on how this extension works and how your data is used, read Data Usage Policy for my Extensions.
Further reading: