With Analytics Insights for WP you can use a map chart to display how many visitors you have from a specific country and from which cities they are coming.
The list below contains all country codes needed to properly set up the above feature in Analytics Insights for WP.
Using the proper country code you will be able to display visitors by city on a regional map (specified country on a map).
This feature was mainly created for local websites and businesses, for which displaying visitors by country on a world map is useless.
Country codes for Analytics Insights
On your WordPress administration area, go to Analytics Insights -> Backend Settings -> Location Settings. Look for Target Geo Map to the region and enter your corresponding country code from the list below.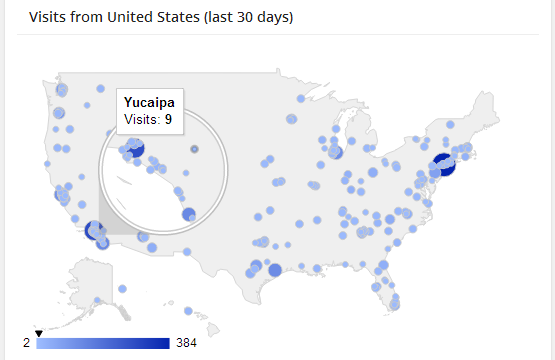 Because the process of retrieving longitude and latitude for each city is quite slow, it can take some time until all cities are rendered. You should also know that Google Analytics API limits this query to a maximum of 10.000 results.
The above video shows how to set up this feature and the impact on rendering speed while displaying a huge number of cities.
Country codes for Analytics Insights:
	AD - 'Andorra'
	AE - 'United Arab Emirates'
	AF - 'Afghanistan'
	AG - 'Antigua and Barbuda'
	AI - 'Anguilla'
	AL - 'Albania'
	AM - 'Armenia'
	AN - 'Netherlands Antilles'
	AO - 'Angola'
	AQ - 'Antarctica'
	AR - 'Argentina'
	AS - 'American Samoa'
	AT - 'Austria'
	AU - 'Australia'
	AW - 'Aruba'
	AZ - 'Azerbaijan'
	BA - 'Bosnia and Herzegovina'
	BB - 'Barbados'
	BD - 'Bangladesh'
	BE - 'Belgium'
	BF - 'Burkina Faso'
	BG - 'Bulgaria'
	BH - 'Bahrain'
	BI - 'Burundi'
	BJ - 'Benin'
	BM - 'Bermuda'
	BN - 'Brunei'
	BO - 'Bolivia'
	BR - 'Brazil'
	BS - 'Bahamas'
	BT - 'Bhutan'
	BV - 'Bouvet Island'
	BW - 'Botswana'
	BY - 'Belarus'
	BZ - 'Belize'
	CA - 'Canada'
	CC - 'Cocos (Keeling) Islands'
	CD - 'Congo, The Democratic Republic of the'
	CF - 'Central African Republic'
	CG - 'Congo'
	CH - 'Switzerland'
	CI - 'Côte d?Ivoire'
	CK - 'Cook Islands'
	CL - 'Chile'
	CM - 'Cameroon'
	CN - 'China'
	CO - 'Colombia'
	CR - 'Costa Rica'
	CU - 'Cuba'
	CV - 'Cape Verde'
	CX - 'Christmas Island'
	CY - 'Cyprus'
	CZ - 'Czech Republic'
	DE - 'Germany'
	DJ - 'Djibouti'
	DK - 'Denmark'
	DM - 'Dominica'
	DO - 'Dominican Republic'
	DZ - 'Algeria'
	EC - 'Ecuador'
	EE - 'Estonia'
	EG - 'Egypt'
	EH - 'Western Sahara'
	ER - 'Eritrea'
	ES - 'Spain'
	ET - 'Ethiopia'
	FI - 'Finland'
	FJ - 'Fiji Islands'
	FK - 'Falkland Islands'
	FM - 'Micronesia, Federated States of'
	FO - 'Faroe Islands'
	FR - 'France'
	GA - 'Gabon'
	GB - 'United Kingdom'
	GD - 'Grenada'
	GE - 'Georgia'
	GF - 'French Guiana'
	GH - 'Ghana'
	GI - 'Gibraltar'
	GL - 'Greenland'
	GM - 'Gambia'
	GN - 'Guinea'
	GP - 'Guadeloupe'
	GQ - 'Equatorial Guinea'
	GR - 'Greece'
	GS - 'South Georgia and the South Sandwich Islands'
	GT - 'Guatemala'
	GU - 'Guam'
	GW - 'Guinea-Bissau'
	GY - 'Guyana'
	HK - 'Hong Kong'
	HM - 'Heard Island and McDonald Islands'
	HN - 'Honduras'
	HR - 'Croatia'
	HT - 'Haiti'
	HU - 'Hungary'
	ID - 'Indonesia'
	IE - 'Ireland'
	IL - 'Israel'
	IN - 'India'
	IO - 'British Indian Ocean Territory'
	IQ - 'Iraq'
	IR - 'Iran'
	IS - 'Iceland'
	IT - 'Italy'
	JM - 'Jamaica'
	JO - 'Jordan'
	JP - 'Japan'
	KE - 'Kenya'
	KG - 'Kyrgyzstan'
	KH - 'Cambodia'
	KI - 'Kiribati'
	KM - 'Comoros'
	KN - 'Saint Kitts and Nevis'
	KP - 'North Korea'
	KR - 'South Korea'
	KW - 'Kuwait'
	KY - 'Cayman Islands'
	KZ - 'Kazakstan'
	LA - 'Laos'
	LB - 'Lebanon'
	LC - 'Saint Lucia'
	LI - 'Liechtenstein'
	LK - 'Sri Lanka'
	LR - 'Liberia'
	LS - 'Lesotho'
	LT - 'Lithuania'
	LU - 'Luxembourg'
	LV - 'Latvia'
	LY - 'Libyan Arab Jamahiriya'
	MA - 'Morocco'
	MC - 'Monaco'
	MD - 'Moldova'
	MG - 'Madagascar'
	MH - 'Marshall Islands'
	MK - 'Macedonia'
	ML - 'Mali'
	MM - 'Myanmar'
	MN - 'Mongolia'
	MO - 'Macao'
	MP - 'Northern Mariana Islands'
	MQ - 'Martinique'
	MR - 'Mauritania'
	MS - 'Montserrat'
	MT - 'Malta'
	MU - 'Mauritius'
	MV - 'Maldives'
	MW - 'Malawi'
	MX - 'Mexico'
	MY - 'Malaysia'
	MZ - 'Mozambique'
	NA - 'Namibia'
	NC - 'New Caledonia'
	NE - 'Niger'
	NF - 'Norfolk Island'
	NG - 'Nigeria'
	NI - 'Nicaragua'
	NL - 'Netherlands'
	NO - 'Norway'
	NP - 'Nepal'
	NR - 'Nauru'
	NU - 'Niue'
	NZ - 'New Zealand'
	OM - 'Oman'
	PA - 'Panama'
	PE - 'Peru'
	PF - 'French Polynesia'
	PG - 'Papua New Guinea'
	PH - 'Philippines'
	PK - 'Pakistan'
	PL - 'Poland'
	PM - 'Saint Pierre and Miquelon'
	PN - 'Pitcairn'
	PR - 'Puerto Rico'
	PS - 'Palestine'
	PT - 'Portugal'
	PW - 'Palau'
	PY - 'Paraguay'
	QA - 'Qatar'
	RE - 'Reunion'
	RO - 'Romania'
	RU - 'Russia'
	RW - 'Rwanda'
	SA - 'Saudi Arabia'
	SB - 'Solomon Islands'
	SC - 'Seychelles'
	SD - 'Sudan'
	SE - 'Sweden'
	SG - 'Singapore'
	SH - 'Saint Helena'
	SI - 'Slovenia'
	SJ - 'Svalbard and Jan Mayen'
	SK - 'Slovakia'
	SL - 'Sierra Leone'
	SM - 'San Marino'
	SN - 'Senegal'
	SO - 'Somalia'
	SR - 'Suriname'
	ST - 'Sao Tome and Principe'
	SV - 'El Salvador'
	SY - 'Syria'
	SZ - 'Swaziland'
	TC - 'Turks and Caicos Islands'
	TD - 'Chad'
	TF - 'French Southern territories'
	TG - 'Togo'
	TH - 'Thailand'
	TJ - 'Tajikistan'
	TK - 'Tokelau'
	TM - 'Turkmenistan'
	TN - 'Tunisia'
	TO - 'Tonga'
	TP - 'East Timor'
	TR - 'Turkey'
	TT - 'Trinidad and Tobago'
	TV - 'Tuvalu'
	TW - 'Taiwan'
	TZ - 'Tanzania'
	UA - 'Ukraine'
	UG - 'Uganda'
	UM - 'United States Minor Outlying Islands'
	US - 'United States'
	UY - 'Uruguay'
	UZ - 'Uzbekistan'
	VA - 'Holy See (Vatican City State)'
	VC - 'Saint Vincent and the Grenadines'
	VE - 'Venezuela'
	VG - 'Virgin Islands, British'
	VI - 'Virgin Islands, U.S.'
	VN - 'Vietnam'
	VU - 'Vanuatu'
	WF - 'Wallis and Futuna'
	WS - 'Samoa'
	YE - 'Yemen'
	YT - 'Mayotte'
	YU - 'Yugoslavia'
	ZA - 'South Africa'
	ZM - 'Zambia'
	ZW - 'Zimbabwe'