With Analytics Insights for WordPress, you can use custom dimensions to track WordPress specific data which can't be tracked using standard Google Analytics dimensions.
Currently, you can define and use up to six custom dimensions: Authors, Publication Year, Publication Month, Categories, User Type, and Tags. With the help of these dimensions, you can create custom reports which will give you additional analytics insights about your authors, publication years, publication months, categories, tags, and users.
Things you should know before setup
you can rename and disable custom dimensions, but you can not delete them
these dimensions are only available for Universal Analytics properties
custom dimensions data isn't available prior to the setup date
the number of custom dimensions is limited; 20 indices are available
if you want to use the custom report template, see below, make sure you setup your dimensions exactly as shown in this tutorial
Create your custom dimensions in Google Analytics
To set up the custom dimensions, go into your Google Analytics account and click on the Admin tab, at the top of your screen. Select the right Property and under Custom Definitions click on Custom Dimensions.
Create your first custom dimension by clicking on the New Custom Dimension button at the top of the table, and follow these steps:
Enter the dimension name.
Choose a scope. I use a Session scope for User Type dimension and a Hit scope for all other custom dimensions. Depending on your use case, you may want to choose a different scope.
Check the Active box to enable the custom dimension and click on Save.
After the setup, your custom dimensions table should look like this: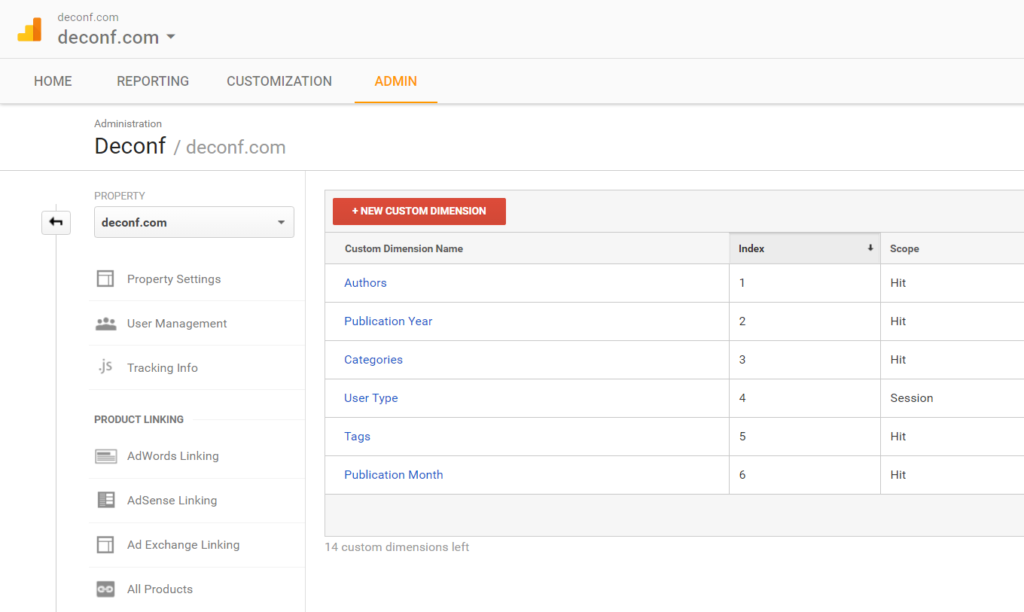 Assign the custom dimensions
Once custom dimensions are created in your Google Analytics account, you will need to assign their indices in Analytics Insights for WP. This will enable the plugin to automatically create and insert the necessary tracking code.
In your WordPress administration area, go to Google Analytics, and under Tracking Code select the Custom Definitions tab. You'll have to assign the corresponding dimension, by its index, to each item available on the Custom Definitions list. If you choose not to track/use a custom dimension, just leave it Disabled.
After assigning the dimensions your custom definitions setup screen will look like this: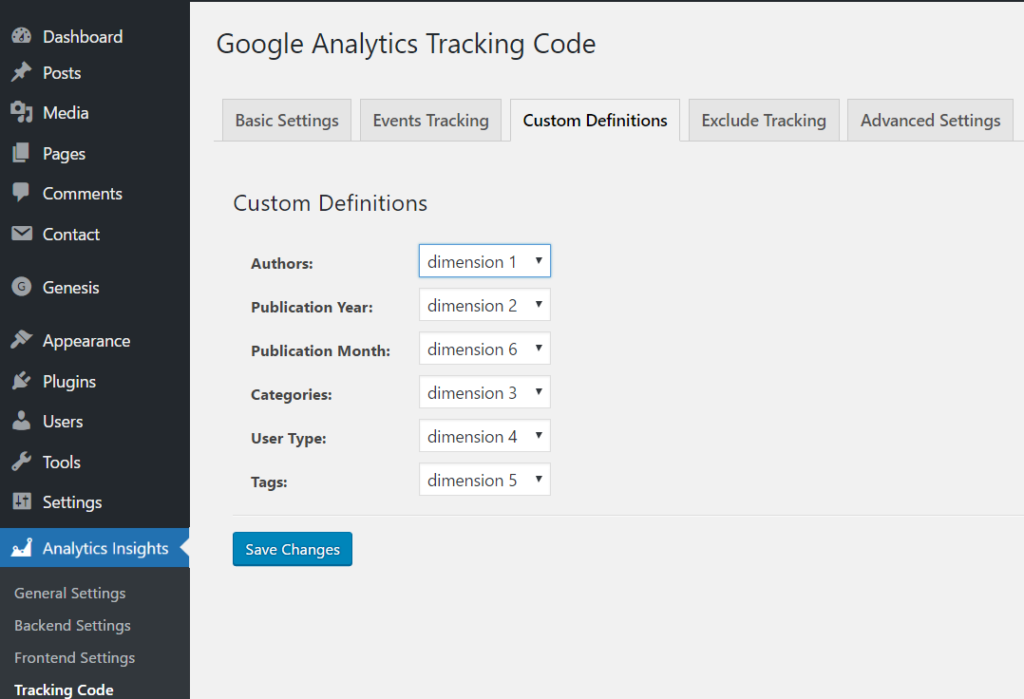 Use the new dimensions to create custom reports
Here comes the fun part! You can use the newly created dimensions to generate meaningful reports, which weren't available before. Here are some examples of custom dimensions usage:
Use the Authors, Categories, Publication Year / Month, or Tags dimension in combination with a metric like Pageviews, Sessions, or Users to determine:
authors that perform well and write the most successful articles
categories and tags that are popular and of interest
the most successful publication years or months
Use the User Type dimension in combination with a metric like Sessions to find how users are browsing your site and the level of their engagement (the number of sessions generated by registered vs unregistered users).
As well,  you can use the User Type dimension in combination with a secondary dimension like Mobile and Sessions as the metric. With the help of such a report, you can find out if your registered / unregistered users prefer to browse your site from a mobile device or not.
Here is a custom report template you can test. This is a template containing five reports, one for each custom dimension I'm using. If you have set up your dimensions, as shown above, feel free to use it!
When using custom dimensions the possibilities are countless, but in the end, the setup of the custom reports should always reflect your own use case. You can create your own reports in your Google Analytics account under the Customization tab. If you have some, feel free to share the templates below!