In Google Analytics Dashboard for WP 4.9.4 we've introduced a brand new report which will enable you to keep track of 404 errors generated on your website. A new year-month dimension is now available to allow you to easily identify the most successful publication months of the year. We've also made some improvements by optimizing the cache system, by changing the way charts are loaded and by allowing you to specify a Google Maps API Key for the Locations report. In addition, we've fixed some bugs like: switching to get_sites() to avoid deprecation warnings in WordPress 4.6 and fixing a PHP7 notice which was preventing the Properties/Views Settings list to be properly displayed on multisite installs.
The new 404 Errors report
The 404 Errors report, introduced in GADWP 4.9.4, enables you to easily keep track of 404 errors and find the source and path of all 404 errors generated on your website.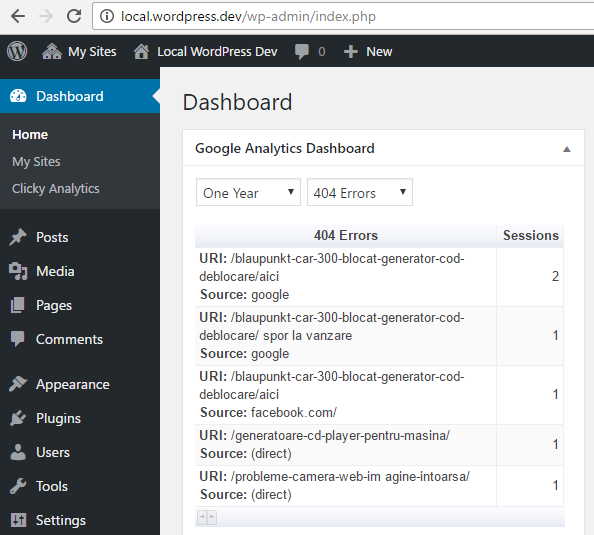 If you're using a localized version of WordPress or you've changed the default title of your 404 error pages, please update the value of 404 Page Title contains option, under Google Analytics -> Backend Settings. The default value of this option is Page Not Found.
The new Year-Month Dimension
This dimension allows further segmentation of the most successful publication years. By using it, you'll be able to track the most successful publication months of the year.  By default this dimension is disabled. To enable it you'll have to follow these steps:
In your Google Analytics account:
select Admin
under your Property click on Custom Definitions
select Custom Dimensions and create a new dimension
then go to WordPress and:
under Google Analytics select Tracking Code
click on Custom Definitions
search for Publication Month and select the index of your newly created dimension
click Save Changes 
Other improvements and fixes
speed optimization by preventing autoloading of cached reports and other items
a new option is available under Backend Settings allowing you to use Google Maps API Key for Locations reports
analytics.js is always loaded over SSL
gadwp_backenditem_uri filter passes the post ID as an extra variable
prevents deprecation warnings by switching to get_sites() and maintaining compatibility with older versions of WordPress
a fix for multisite installs to properly display the Properties/Views Settings list on PHP7
the plugin was tested and is ready for WordPress 4.7