In May we're going to have a major release of Google Analytics Dashboard for WP (GADWP). The 5.0 release has focused on re-writing the tracking component from scratch to provide means to easily customize the code.
As usual, we've also implemented some of the feature requests and enhancement suggestions we had in the past. Even if your ideas haven't reached this release, we're constantly looking over them. The most popular ideas will always find their way into a new version. Please continue to suggest new features, because ideas and contributions are always welcome!
Even if it's a major update, no manual actions are required. While the upgrade should run smoothly checking the plugin settings page and even it's functionality is recommended.
New features in Google Analytics Dashboard for WP
As we said above, GADWP 5.0 has its tracking component overhauled. Among the new features implemented are:
Google Tag Manager support
Ecommerce tracking plugins integration
Accelerated Mobile Pages support
Google Optimize support
Page scroll depth measurements
Form submissions and telephone events tracking
Google Tag Manager tracking
As a result of all properties being migrated to Universal Analytics, we've deprecated Classic Analytics tracking and introduced support for Google Tag Manager tracking. If you're a Tag Manager user, you can switch the Tracking Code to Tag Manager mode and use it for tracking.
Using the Tag Manager mode you'll be able to use Custom Dimensions as well as Page Scroll Depth measurements with the help of Data Layer Variables. Please note that your Container needs further customization for these features to work.
Tracking of Accelerated Mobile Pages (AMP) is also available. For the AMP tracking to work you'll have to create a separate container.
Accelerated Mobile Pages tracking
Both tracking types, Analytics and Tag Manager, have support for Accelerated Mobile Pages.
You can enable this feature from Tracking Code -> Integration. Once enabled and properly configured, you'll be able to track users browsing your accelerated mobile pages.
Google Optimize support
With the launch of Google Optimize we've decided to support it too. You can setup Google Optimize under the Integration tab of the Tracking Code menu.
To mitigate the risk of page flicker, while loading Optimize, the Page-Hiding snippet can be enabled with a click of a button. For details check the options available under the Optimize section.
Page Scroll Depth measurements
We had this feature in mind for a long time, and it's finally here! This feature, with the help of events, allows you to track how deep the users are scrolling into your pages. It monitors the 25%, 50%, 75%, and 100% scroll points.
To implement this feature I've decided to use the Scroll Depth plugin developed and maintained by Rob Flaherty.
Other Features
In addition to the other events tracking, using Google Analytics Dashboard for WP 5.0, you can now track form submissions and telephone clicks.
To make things easier for those who need Ecommerce and Enhanced Ecommerce analytics plugins, these plugins can now be loaded from GADWP's settings without requiring any kind of tracking code customization.
Enhancements in Google Analytics Dashboard for WP
Some reports, like location and technology, were missing the ability to quickly switch between metrics. Some users need to have them displayed using the Sessions metric, others using the Users or the Pageviews metric. From v5.0 you'll be able to quickly switch between these three metrics by clicking their corresponding icon on the top-right of your widget.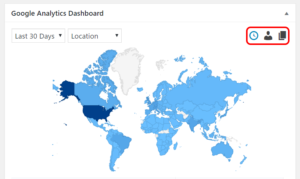 All the events are now tracked using a dedicated .js file. This way, moving jQuery to the bottom of your webpages or in any other location shouldn't be a problem anymore, as long as you do it the right way.
In addition, events tracking got better! Where needed, a callback function is used to increase the tracking accuracy. The timeout of an event being done sending is 100 ms and can be adjusted with the help of gadwp_analyticsevents_timeout filter.
Moving the tracking code in footer is much easier now! The plugin provides options, for the main tracking code as well as for the events tracking code, to inject the snippets in the head section or the footer of your site.
With the support of form submission events you'll also be able to track login and registration actions, no matter if you use a custom login/registration page or not.
The ga_dash_addtrackingcode action was deprecated and a new set of actions and filters are available. These new hooks make the tracking component more flexible, allowing advanced tracking code customization.
Google AdSense linking snippet was also removed since it isn't needed anymore to link these two services.
Final Notes
After such a huge release the documentation needs an heavy update, which will occur during the following weeks.
We've also prepared a table of contents for GADWP's documentation to make things easier to find.
Thanks for your patience and I hope you'll enjoy it!